Correct information on Euro Cylinders to address the issue of lock snapping
There was a short feature on ITV's This Morning programme on Thursday the 31st of October which unfortunately contained some incorrect information.
The topic of cylinder snapping was raised and how to address it.
The first thing we want to say is don't panic! This is not something that affects all locks – it is only Euro Cylinders, although it has to be said that this is a very popular type of lock and the most prevalent one found in UPVC doors.
What are the standards of Cylinders to stop Lock Snapping?
The next thing to say is that quality standards have been created to address the issue – and this is where the confusion seems to have come in the programme.
When it comes to europrofile cylinders, The first test standard to address the situation was SS312 Diamond – a test standard developed in 2010 by Sold Secure, one of the UKs leading approval houses for security products. This was then followed in late 2011 by TS007 with its star rating – a standard developed by the manufacturers through the Door & Hardware Federation and Glass & Glazing Federation, and a standard that BSI have chosen to Kitemark against.
What Lock Cylinder Do I need to Prevent Lock Snapping?
However it is vital that for protection against snapping, a Kitemarked cylinder has to be 3*, as a 1* cylinder, even if sold as being "anti-snap" or "snap-resistant" has not passed any snapping test. In the case that a 1* Kitemarked cylinder is in place, then security handles have to be fitted (for example TS007 2*) in order to provide snap protection.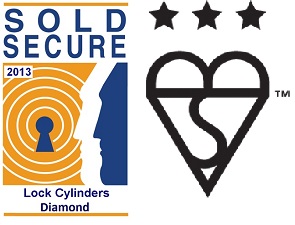 Logos to Look Out For
So to clarify – it's not a case that any cylinder with a Kitemark on it after 2007 will protect against snapping, if Kitemarked then it has to be 3* or you may want to look for the harder to achieve Sold Secure Diamond approval.
A list of Sold Secure Diamond approved cylinders can be found here.
Unfortunately, we are unaware of any comprehensive list of products that have passed the TS007 standard, but your local locksmith would be able to help.
What Size Cylinder Do I need?
Don't forget, you also need to ensure that the cylinder is the correct size for your application as cylinders vary depending on door and handle thickness. Your current cylinder may not be the correct size so don't assume you simply need to replace like for like.
There is another thing to consider, and that is if you've had a new door fitted recently and it meets the PAS24 standard then you have nothing to worry about as the issue is dealt with by the fittings involved in the door.
It's for the above reasons, and the associated complexity that we recommend security is not something to be "done yourselves" – securing your home, looking after your loved ones and possessions is best left to the experts; those that know the relevant standards and what applications is required, Those that can ensure your insurance requirements are met, those that can even add an element of ease of use by keying your locks alike so you only have the one key to operate all your locks (which can include padlocks etc).
Don't risk your security, use your local professional locksmith expert in stockport-call Cusworth locksmiths now on 0161 669 4597